2019


7th July
Joy of Six, Sheffield

16th - 17th November
Warfare, Reading

Show Orders
Please note that we currently have over 2000 different products in our ranges. While we endeavour to carry as many products as possible to the shows we cannot guarantee that we will always have every item in stock on the day.
Orders for unpainted model buildings and scenics should be placed at least seven days prior to the show.


Orders for Old Glory 15s etc should be placed at least four weeks prior to the show to allow for shipping from the USA.
Opening hours



Personal callers are welcome from Tuesday - Friday, and most Saturday mornings, but please phone first (01743 465676) to confirm we are available and not at the post office, bank, shows etc!


10.00am - 4.30pm
(Tuesday - Friday)
10.00am - 12.30pm
Saturdays
(Shows permitting)
Holiday Time Again...


It's that time of the year again - summer holidays. We will be short staffed for a while as Mark takes a break with his family. We have tried to clear as many orders as we can but there will inevitably be a slow down while Barrie tries to keep TimeCast running on his own!

Please bear with us - we'll try and answer emails and process orders as quickly as possible. Normal service will be resumed as soon as possible.




Cold War 84 - New British Vehicles


Our new Spartan APC and three variants - in stock and available order online.
Click here for full details: Cold War British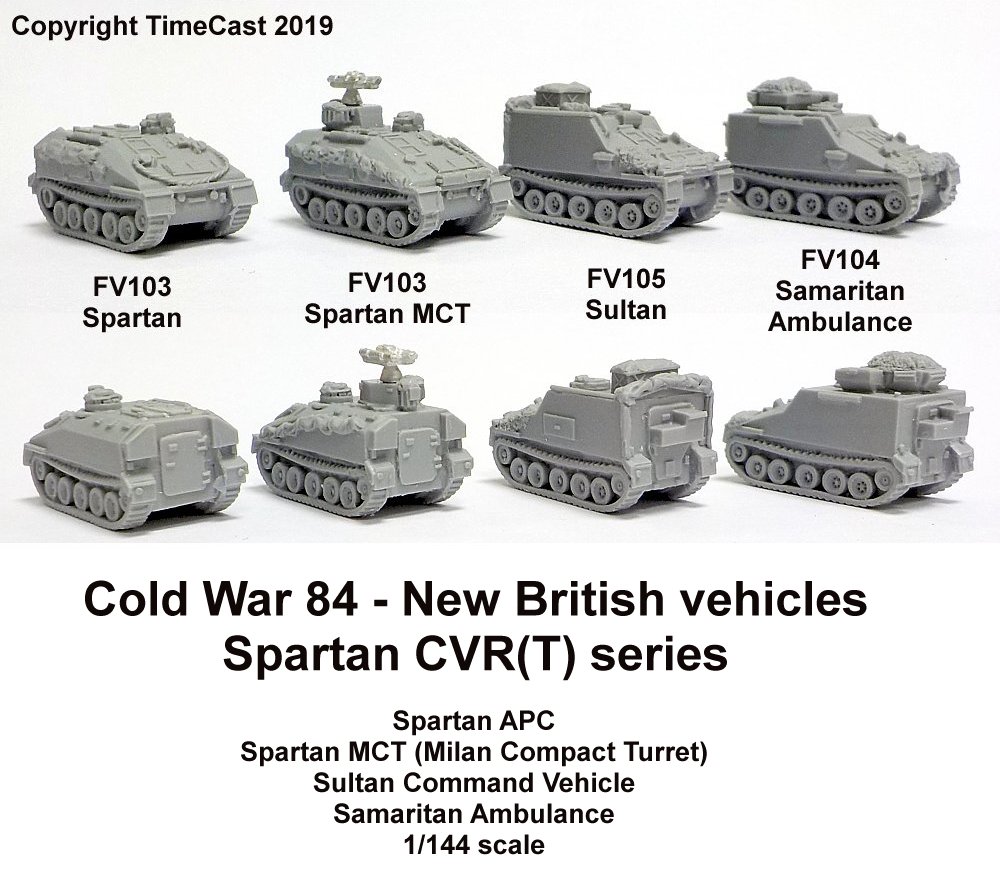 TimeCast Price Increase 2019

- update



For various reasons the intended price rise, starting on 8th July, has been delayed. The price rise will now start on the week commencing 22nd July and we hope to have it completed by the end of July.



TimeCast price Increase 2019



We have held the prices of our own products and the Old Glory 15s ranges for the past three years by absorbing price increases from our suppliers and service charges. Unfortunately this can no longer be sustained. The cost of materials, services, utilities, importing (eg shipping costs and custom charges) have all increased, and more recently the change in the exchange rate of the British Pound and the US Dollar has made life even more difficult for us. We have therefore, albeit reluctantly, decided to increase our prices in July 2019.

Old Glory 15s - Commencing July 8th 2019 Standard Packs will increase to £19.00 per pack and the smaller packs will now be £9.50 per pack.

TimeCast Products - our own products will also be subject to price increase of around about 5% with the exception of the Cold War 84 figures which will be increasing by 10p per bag. The Cold War 84 vehicles will remain at the current price point, at least in the short term.

On the positive side we will be holding our prices until the week commencing 8th July and all orders placed up until this date will be charged at the present prices. This also means that the new Old Glory 15s ranges of Napoleonic figures - Late French Revolution and Early Imperial French "The Glory Years" and the Rank and File Miniatures Crimean War British - will initially be available at the current prices.



10mm Battle Damaged Building updated...



Our popular Range 7 10mm Battle Damaged Building need a new mould and we thought that as we have had that particular model inproduction for a while we'd give it a facelift at the same time. The model has been completely revamped with more interior detail as well as a couple of modifications to make production easier.
For full details please visit our Range 7 page or click here...